TEF and TEFAQ Exam presentation
Diplômes de la
The TEFaQ exam is a TEF exam adapted to Quebec. This means that there is no cultural reference to France.
Quebec plans to change the shape of the Tef in 2023
What changes are planned?
Nothing has been confirmed, but it would appear that the changes will concern reading and listening comprehension only.
The official announcement in 2023 will give more details.
TEFAQ Exam Presentation :
Points, Waiting period, and period of validity
Quebec immigration requirements for French are B2 level for Listening (Oral comprehension) and Speaking (Oral expression).
Tefaq exam is one of the official tests you can take to evaluate your level in French.
How many points for my immigration file ?
Tefaq (B2) adds 10 points to your file (Regular Skilled Worker Program; principal applicant )
_ Listening (B2) (Compréhension Orale ) : 5 points
_ Speaking (B2) (Expression Orale ) : 5 points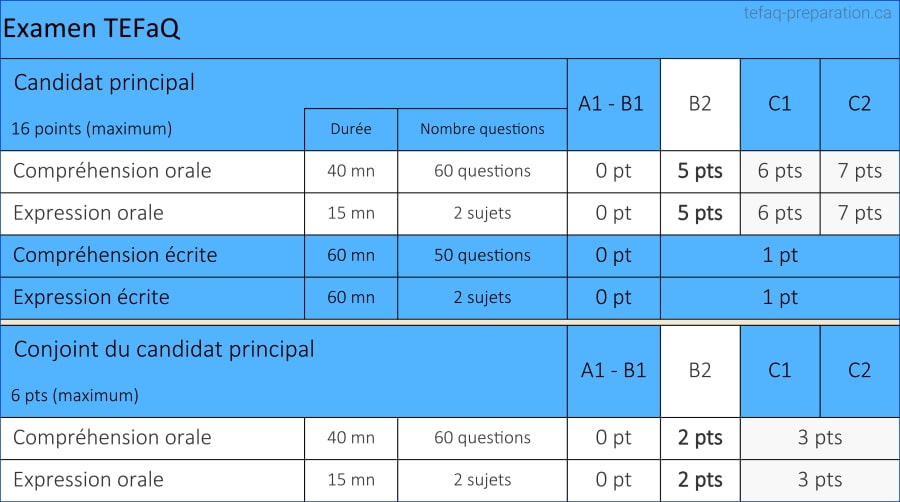 Be careful, verify on official website if something has changed :
CCIP Paris website

Diplomas that are accepted by the Ministère de l'Immigration, de la Francisation et de l'Intégration

(See : Attestations of French test results or diplomas + )
Required waiting period between TEFAQ tests :
If you fail a test (Oral Comprehension or Oral Expression), you must wait 1 month before returning to the test that you failed (Oral Comprehension or Oral Expression). For example: if you have failed Oral Comprehension, you do not have to wait a month to take Oral Expression, but you must wait 1 month before returning to Oral Comprehension. Nota : When planning your exam, be careful, please check if required waiting period between tests has changed ("Délai de carence")
Period of validity of Tefaq :
Even if Tefaq validity is 2 years, Quebec Immigration can reassess your B2 level during an immigration interview. See : The Ministère may at any time verify or assess your knowledge of spoken French during an interview."
It is why you must keep your French alive at level B2 after the exam and be able to prove that level during an immigration interview.
Check period of validity on official website (Follow Tefaq link to CCIP)
(See : Quelle est la durée de validité de mon test ? – and- Check if the information has been updated in the English page)
TEFAQ Listening (Oral compréhension)
The Oral comprehension test is done on a computer.
The test has 60 questions and the slideshow below explains the structure of the tests and types of questions.
TEFAQ Speaking (Oral Expression)
Oral expression test is a face-to-face exam with an interviewer and test has 2 parts : Part A and Part B